eNewsletter for July 10, 2018
Get Involved with RMSA
Seed School Grads Launch Mountain Seed School Campout
RMSA-trained Seed Teachers Penn and Cord Parmenter (Miss Penn's Mountain Seeds) are offering a new seed saving course at their 43-acre ranch in the Wet Mountains of south-central Colorado!
Penn and Cord's Mountain Seed School Campout
Westcliffe, Colorado (@ 8,000 feet!)
Their six-day program includes presentations from legendary author and geneticist Carol Deppe, breeder Steve Peters, and seed hunter Panayoti Kelaidis. The course is dedicated to the preservation of seed diversity through regional adaptation, seed stewarding, regional seed businesses, seed vaults, and backyard breeding.
This looks to be an excellent opportunity for seed savers and gardeners of all levels. We wish them the best of luck on this event!
Sow Your Ideas at the Seed Summit
Our greatest wisdom as a community comes from our shared knowledge, passions, and experiences. As we plan for the 2019 Mountain West Seed Summit, we want to hear from you about what topics you'd like to see covered.
Send your fertile ideas for a topic, panel, or presentation to be considered as a 200-word description to:
lee-ann@rockymountainseeds.org.
New deadline: Friday, August 31st.
Another powerful way to grow our collective wisdom is to support the scholarship fund for those in need to attend the Summit. You'll be presented with an option to donate at registration. Help our community thrive in seed knowledge by paying it forward! For example, we will be supporting refugees working with Denver Urban Gardens to attend.
Scholarships are available by emailing belle@rockymountainseeds.org.
Elevate Your Taste Buds with Local Food Alliance
Our friends at Local Food Alliance are hosting a series of delectable farm-to-table dinners to celebrate the bounty of local flavors in the Wood River Valley! Hosted on site at working farms, guest chefs will curate the menu for these four-course meals with wine pairings using all fresh and seasonal ingredients. Proceeds go towards LFA's great programs.
The first dinner is July 13th at Squash Blossom Farm in Bellevue, Idaho.
Support LFA and tantalize your taste buds this summer at one (or all) of these delicious local food dinners!
Intern with "Real Deal" Biodynamic Seed Growers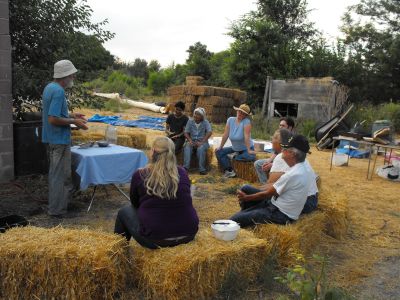 Meadowlark Hearth Farm has another inspiring seed internship program starting this fall. These folks are the real deal when it comes to biodynamic seed growing. We are thrilled to have them lined up to present at the 2019 Mountain Seed Summit!
2018 Autumn Seed Internship @ Meadowlark Hearth Farm
September to December: Harvesting, cleaning, germ testing and learning about seed distribution. The autumn internship is for experienced farmers or gardeners wanting to deepen their seed saving knowledge.
Going, Going, Gone
Spots are going fast for our first fully underwritten Seed School Teacher Training! This unique course is designed especially for agricultural professionals—that is, folks from NGOs, extension agencies, NRCS offices, or community groups that work directly with farmers.
Seed School Teacher Training for Ag Professionals
October 21–26, 2018
Posner Center, Denver, Colorado
Click here to apply and attend for FREE!
Our aim with this course is to bring seed saving techniques to our farming communities, thereby increasing seed production at the farm level and boosting resiliency and adaptation in our food and seed supplies. Sounds like a great idea, right? We are deeply grateful to the W-SARE grantmakers for supporting our vision and stepping up to offer grassroots solutions to the crises we face in our seed/food system.
Your Gift, Your Seeds
Take a moment to think about the things that matter most to you. Health and happiness for you and your family. A strong and secure community. A bright future for your children. These are the essential needs and values shared by all humans. Remarkably, they are also deeply connected to a humble, often overlooked source: the seeds that sustain us.
At the Rocky Mountain Seed Alliance, we are working to ensure an abundant and diverse supply of seeds is available for our regional communities. This is how we create a healthy and sustainable life, today and for the generations to come. You make this work possible. By donating your time, your knowledge, and your dollars, you are helping to rebuild the wealth of local seeds that our regional communities depend on.
Stay Connected with RMSA
For questions regarding seed saving and current seed news, contact Bill McDorman: bill@rockymountainseeds.org

For questions about seed vaulting or seed libraries, contact John Caccia:
jc@rockymountainseeds.org

For general inquiries, contact Belle Starr: belle@rockymountainseeds.org

For questions about the Seed Stewards or Grain Trials programs, contact Lee-Ann Hill:
Lee-Ann@rockymountainseeds.org
928-300-7989 | www.rockymountainseeds.org

Stay up to date with current seed news by checking in regularly with the RMSA Facebook page.

​​