eNewsletter for June 14, 2018
Get Involved with RMSA
RMSA Fundraiser Dinner and Wildflower Walk
Many years ago, in a previous life, RMSA Executive Director Bill McDorman worked for a decade leading wildflower walks every Thursday for locals and visitors to Ketchum, Idaho's famed Galena Lodge. His weekly excursions into the vibrant blooms of the Sawtooth Mountains were renowned for their blend of whimsy and science -- a feast for the mind and the senses.
R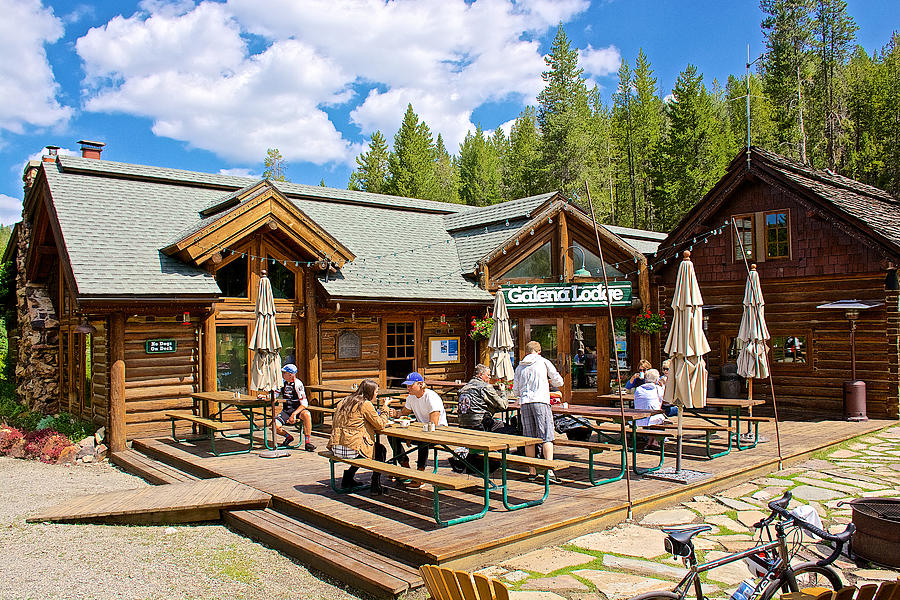 MSA Fundraiser Dinner and
Wildflower Walk
Galena Lodge -- Ketchum, Idaho
Tickets are $99 and include a three-course dinner and a wildflower walk. Or you may join the wildflower walk only for $25.
Wildflower walk begins at 5:30 p.m. and dinner will be served at 7:00 p.m. State of the Seed Movement at 8:00 p.m.
A Sterling Opportunity
Join RMSA for a rockstar Seed School lineup at Sterling College in Vermont.
Seed School
@ Sterling College
Craftsbury Common, Vermont
(3 credits are available through
Sterling College)
As always, our dynamic duo of Executive Director Bill McDorman and Special Projects Director Lee-Ann Hill will be the lead facilitators, guiding students on a deep dive through seed saving knowledge and hands-on practices. Join us for an unforgettable summer week in New England—on a campus focused on environmental stewardship, enjoying delicious garden-fresh meals, and learning from the movers and shakers of the seed world. What could be better?
Garden Seed Saving Tune-Up
Join RMSA's Bill McDorman and John Caccia, Monday for a free informative discussion about seed saving and its importance. Come ready to get your hands dirty with activities and demonstrations. Have specific questions answered. The Bloom Garden is located just north of the WRHS Football Stadium in Hailey, Idaho.
Bloom Garden, Hailey, Idaho
Calling All Ag Professionals!
Are you a cooperative extension agent, NRCS staffer, or agricultural professional looking for ways to bring seed saving to your farming communities? This FREE training is for you!
Seed School Teacher Training for Agricultural Professionals
Posner Center, Denver, Colorado
RMSA is excited to be accepting applications from ag professionals for our first fully underwritten teacher training course! Paid for by a grant from the prestigious Western SARE program of the USDA, this unique educational event is tailored specifically to cooperative extension agents, National Resources Conservation Service staff, and others whose work
directly supports farmers.
Participants in this course will receive training based on RMSA's acclaimed Seed School curriculum. Ag professionals will learn how to teach seed saving methods to the farmers they serve, enabling them to boost farm profitability, improve soil health, and enhance regional food security. By sharing this knowledge with local producers, course participants will help create successful models of on-farm seed saving that benefit both their local economies and environments.
If you are an agricultural professional in the Mountain West (Colorado, Idaho, Montana, New Mexico, Utah, and Wyoming) or additional states/territories of the We
stern SARE region (Alaska, Arizona, American Samoa, California, Guam, Hawaii, Micronesia, Nevada, North Marianas Islands, Oregon, and Washington), you are eligible to attend this course.
Registration fees are fully covered by W-SARE funds. Spaces are limited for this unique opportunity.
Reunion of the Radicles
Once again, RMSA and bioregional seed folks everywhere will be gathering in Santa Fe for our second Mountain West Seed Summit! We're thrilled to be holding the 2019 conference at the fabulous Institute of American Indian Arts (IAIA). This impressive college focuses on empowering Native and non-Native students through education, self-sufficiency, and artistic expression.
Mountain West Seed Summit: "Reunion of the Radicles"
Santa Fe, New Mexico
February 22–23, 2019
Learn more and register here
Presenters scheduled so far include Rowen White (Sierra Seeds) and Rebecca Newburn (Richmond Grows Seed Library). Expect a rich, diverse, and regionally focused experience with opportunities to network and build bridges with fellow seed leaders.
Regular registration: $295
RMSA Supporting Members and New Mexico residents: $250

Become a Supporting Member for just $5 a month and receive the discount. Click here to sign up.
***
Also, save the date for the Seed Summit Field Trip on February 21. We are tentatively scheduled to visit Tesuque Pueblo, Los Luceros Historic Property, and other diverse northern New Mexico seed sites. The cost will be $75 with lunch included.
Do you have a suggestion for a topic you'd like to see (or present) at the Seed Summit? Please send a 200-word description of an interesting topic, panel, or presentation to be considered (email: lee-ann@rockymountainseeds.org). Deadline for submissions is
July 31, 2018.
Stay Connected with RMSA
For questions regarding seed saving and current seed news, contact Bill McDorman: bill@rockymountainseeds.org

For questions about seed vaulting or seed libraries, contact John Caccia:
jc@rockymountainseeds.org

For general inquiries, contact Belle Starr: belle@rockymountainseeds.org

For questions about the Seed Stewards or Grain Trials programs, contact Lee-Ann Hill:
Lee-Ann@rockymountainseeds.org
928-300-7989 | www.rockymountainseeds.org

Stay up to date with current seed news by checking in regularly with the RMSA Facebook page.

​​